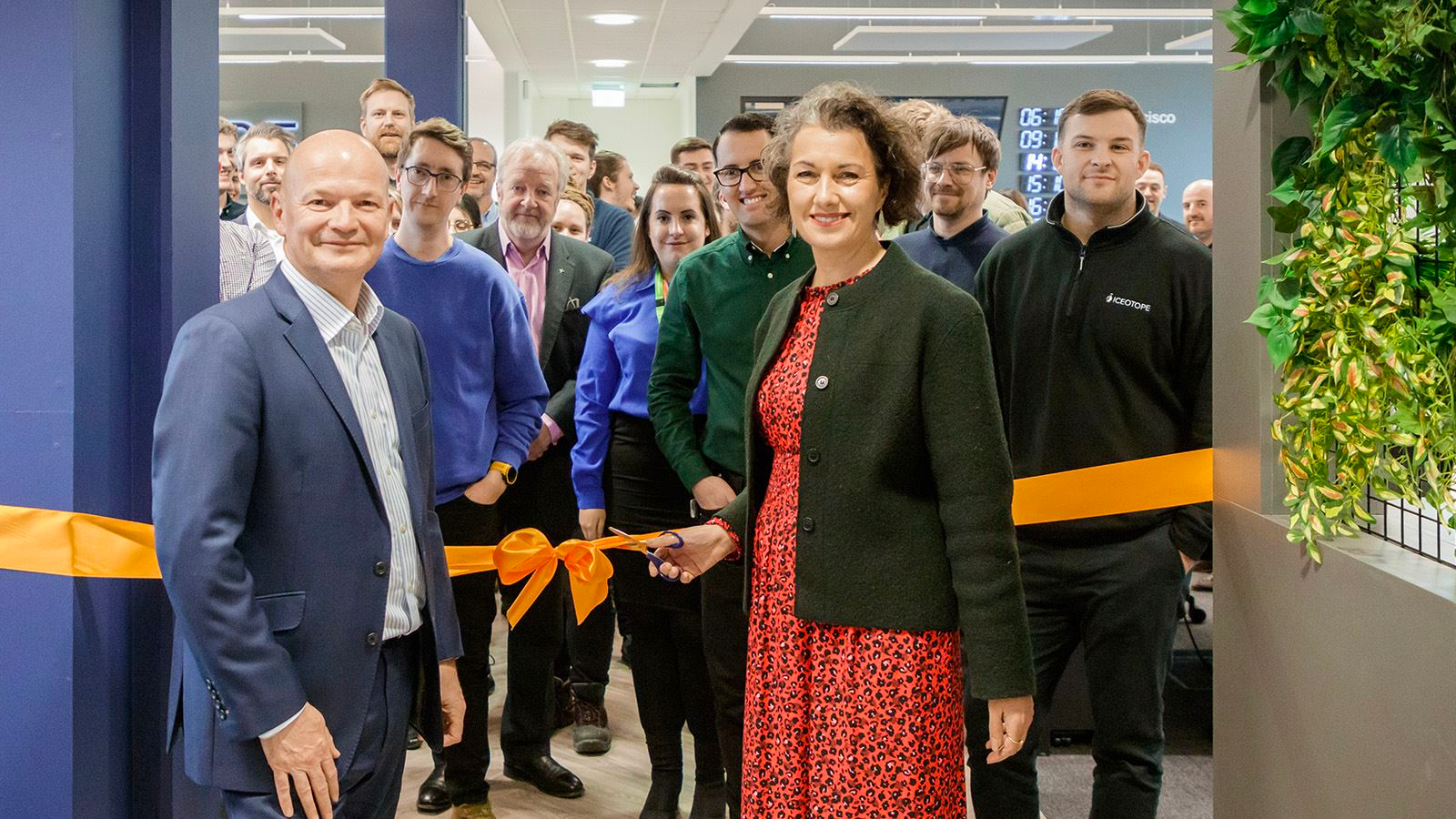 Date published
13 Jan 2023
Existing site size evolved to support business success and customer demands
Brand footprint to continue to grow with additional new US office and specialised UK testing facility
Global funding investment round used to further develop ground-breaking innovations
Iceotope, the global leader in precision immersion cooling, has announced the opening of its new Sheffield HQ. The news follows the company's recent £30 million funding round with a global investment syndicate led by Singapore private equity firm ABC Impact, a global, strategic Investor, nVent and UK investors including FTSE 250 company, SDCL Energy Efficiency Income Trust plc, Northern Gritstone, Edwards Investments and British Patient Capital.
Opened by Sarah Champion, MP, the new HQ is designed to provide a hub for technology innovation as well as supporting ongoing business growth and expansion with the addition of an enhanced design lab, extended test and validation facilities and of course new team members. The facility ensures that Iceotope continues to deliver a consistently high level of customer experience with further investments to be announced ensuring the same globally.
As global volumes of data continuously evolve and expand, Iceotope's mission is to enable digital growth, accelerating the adoption of the exciting technologies of the future whilst meeting the sustainability demands of that increasingly digitalised world. Iceotope's precision immersion cooling technology can take megatons of carbon from the atmosphere permitting businesses to drastically reduce the Capital, Operating and Process costs of data generation whilst accelerating their competitive advantage and meeting their climate obligations.
Iceotope New HQ Is Productive Environment for Workers as well as Partners & Customers
The design of the new facility has been optimised to maximise the efficiency and wellbeing of our people. The new spacious office HQ has allowed Iceotope's team to grow and for new departments to be developed, to further push Iceotope's innovation vision.
The company is scheduled to open a North American office later this year, creating a US centre to support ongoing growth in the data centre sector.
David Craig, CEO of Iceotope states, "We are thrilled to announce the expansion of our UK HQ, creating a hub for innovation and creativity in the heart of Sheffield. The outstanding growth Iceotope is experiencing will allow us to continue to develop efficient and reliable solutions, including researching practical ways to help get the data centre industry one step closer to net-zero. Following Covid 19, we have evaluated our space and have had to rethink how our modern workforce can best benefit. The additional expansion into the US is an exciting time for us here at Iceotope and we're looking forward to the next set of announcements to follow in 2023."
The new Iceotope UK HQ office is now live and operational.