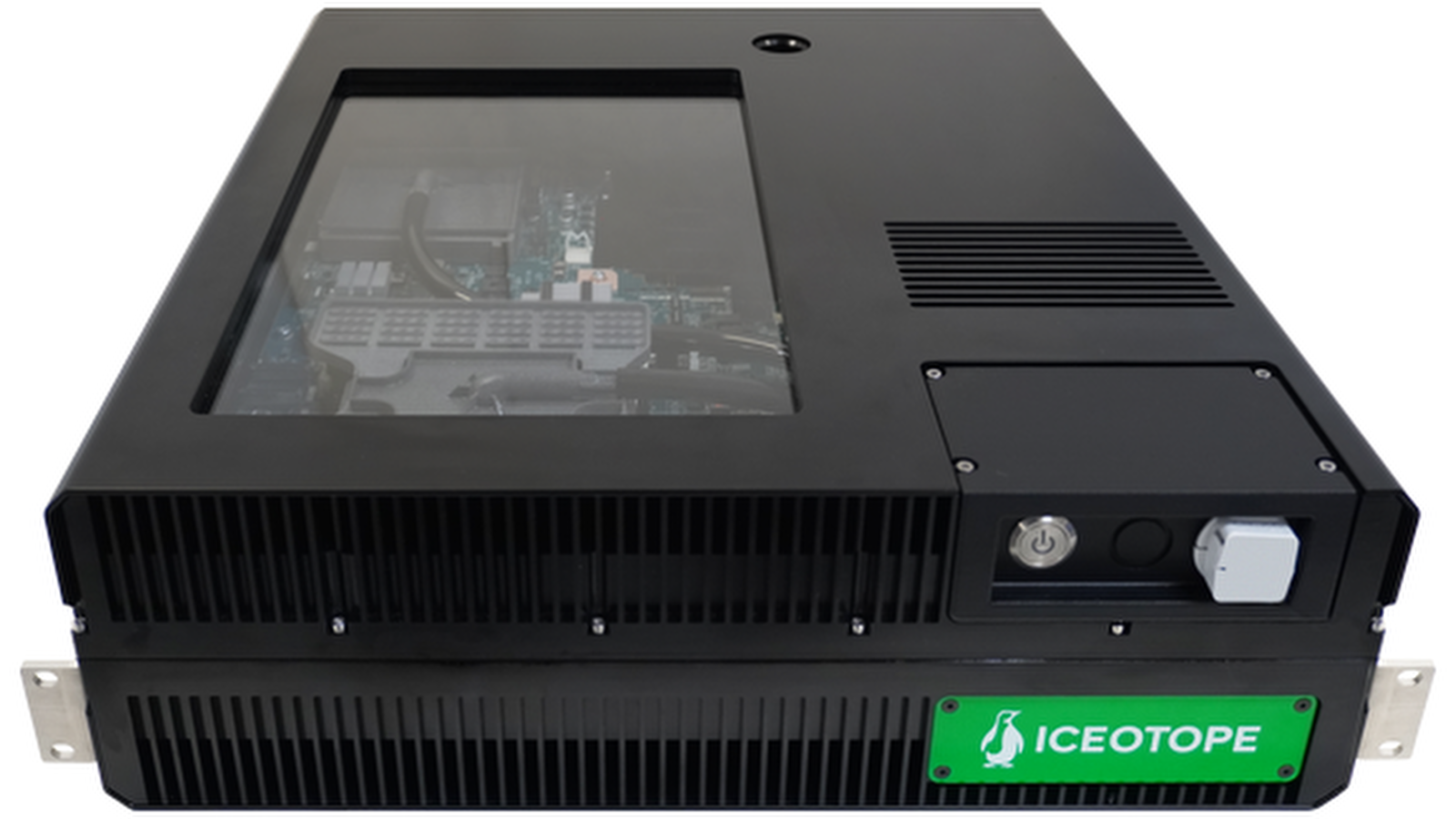 Date published
22 Jun 2023
Highly-energy efficient solution reduces energy consumption by up to 40%
New "fit-and-forget" telco edge solution maximizes server uptime while significantly reducing maintenance calls and associated OpEx
Ruggedized, modular design enables rapid scalability across all types of extreme edge telco deployments
Leverages HPE ProLiant DL110 servers and 4th Gen Intel Xeon Scalable processors
Iceotope has announced KUL RAN, an ultra-resilient and highly-energy efficient precision liquid cooled server solution, to address extreme edge deployment challenges across the entire telco estate. KUL RAN is a new 19-inch short-depth rack form factor with HPE ProLiant DL110 servers and 4th Gen Intel Xeon Scalable processors optimized for high-density, low-latency edge, virtualized RAN, and 5G services. The solution fits to existing deployed infrastructure.
Extreme edge deployments tend to have reduced control over environmental exposure during installation, operation and maintenance compared to centralized data center facilities. KUL RAN is specifically designed for telco and harsh edge deployments to meet the need for reliable data processing installations close to the point of use in the face of a range of challenges from power constraints to service accessibility, as well as local environment and ambient weather conditions. The solution, developed in partnership with Intel and HPE, will help accelerate adoption by achieving game-changing reductions in power consumption and maintenance costs while maintaining or enhancing data center density.
Forty percent less energy consumption
KUL RAN – based on Iceotope's Precision Liquid Cooling technology – delivers up to a 40% power saving compared to other edge servers in its class. Precision Liquid Cooling removes nearly 100% of the heat generated by the electronic components of a server. This not only reduces energy consumption, but also eliminates all water consumption as well. With much of the power usage in telco networks coming from RAN sites, KUL RAN stands as a clear enabler for energy efficiency, expediting telcos' path to net zero. Paired with 4th Gen Intel Xeon Scalable processors, together with HPE ProLiant DL110 servers, customers can gain further power efficiencies in their network and edge sites.
The "Fit-and-Forget" telco edge server
With thousands of sites in remote locations, telco providers are continuously looking for ways to minimize on-site maintenance costs. KUL RAN has been created as a "fit and forget" solution, for reliable operations with significantly fewer service visits, greatly reducing the OpEx burden on operators. It can be installed, removed and replaced without risk of weather or contaminant ingress reaching sensitive HPE ProLiant DL110 server components and 4th Gen Intel Xeon Scalable processors, thanks to its sealed chassis. Its IP67-rated enclosure provides 100% protection from thermal shock, dust and other airborne contaminants, keeping the housed solution factory clean throughout its operational life.
The solution also enhances server uptime in extreme conditions should supporting systems fail, either at rack or shed level. In some instances, the deployment of KUL RAN, which is designed to far exceed NEBS compliance standards, means supporting environmental control systems do not need to deliver resiliency, saving the operator both CapEx and OpEx costs. KUL RAN can be shipped as a warranted, boxed, stand-alone product – similar to any air-cooled HPE server – and does not require a combined server and infrastructure sales approach.
The truly scalable telco edge solution
The modular design of KUL RAN is highly configurable, enabling rapid scalability across all types of deployment. Each KUL RAN unit can be easily dropped into place at any location. The unit mounts horizontally into a 19-inch short-depth rack form factor, and requires no ancillary cooling infrastructure, such as fluid manifolds, hoses or separate rack-mounted liquid or air-heat exchangers. The Iceotope chassis provides all necessary functions for the server in hot or cold extremes and anything in between.
David Craig, CEO, Iceotope said: "Working in close collaboration with industry leaders Intel and HPE, Iceotope has delivered an innovative solution to the immediate challenges facing RAN network deployments. In doing so, this partnership has enabled the rapid advancement of a host of 5G powered applications bringing data processing and content closer to the point of use in all industrial, commercial and consumer contexts."
Phil Cutrone, Senior Vice President and General Manager of Service Providers, OEM, Telco and Major Accounts at HPE said, "The deployment of Cloud RAN optimized compute at the telco edge is fundamental to the growth of RAN and Open RAN. The ability to deploy servers at extreme locations with reduced power consumption and maintenance costs, as well as enhanced server uptime, could be a game-changer in this market. We're delighted to extend our collaboration with Iceotope Technologies, combining the Cloud RAN optimized HPE ProLiant DL110 server with Iceotope's KUL RAN liquid-cooled server solution."
"As Intel works to enable more sustainable outcomes for customers, this innovation, in collaboration with HPE and Iceotope represents a step toward delivering solutions that reduce environmental impacts," Jeni Barovian Panhorst, VP and GM of Network & Edge Compute Division at Intel. "Through Iceotope's rack-based approach to deliver Precision Liquid Cooling and HPE's Gen 11 servers based on 4th Gen Intel Xeon Scalable processors, customers can take advantage of the enhanced TCO at the Edge delivered by liquid cooling while maintaining many of their operational processes and KPIs."
Come visit Iceotope in the Intel booth #300 at HPE Discover, Las Vegas, June 20th – 22nd 2023, for a deeper dive into KUL RAN and the latest innovative Precision Liquid Cooling technologies.
Intel, the Intel logo, and other Intel marks are trademarks of Intel Corporation or its subsidiaries.